The Alvin Bone Show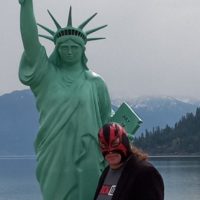 "I understand there will be days like this."
-Alvin Bone.
Alvin, Just a few questions..
ALVIN BONE: Go ahead, Ask anything.  Just don't make me smack you one
ALVIN BONE:  Of course. C'mon Rockers!  Feathers are definitely cool, eat through 'em right? .  . . .is that a hair?
Did anyone offer you Bourbon today?
ALVIN BONE: Seriously?  Are we done here?
ALVIN BONE: You.. .  Look, you want a picture or something?  I'm cool with that.  Otherwise. . .
Sorry, Mr. Bone, Why ROCK 103?
ALVIN BONE: Now I'm gonna smack you.  This is the last punch of rock up through the mountains beyond the North Border!  The wall of rock that stands between us and Maple Syrup!  (Although it's delicious) ROCK 103 is Red Meat.  You hear?  A big ol' cloud of diesel.  Smoke don't mean it's broke!
Can I get that picture now?
ALVIN BONE: Of course, buddy.
It's fun knowing I'm already banned from lots of places even though I haven't stepped anywhere beyond the DMV; . . .I should've known.
Thanks for listening into North Idaho's Rock Station  – ROCK 103
[episode id=306]