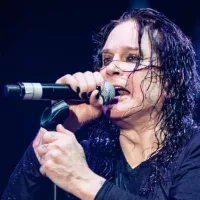 Ozzy Osbourne revealed during the premier episode of the relaunched "The Osbournes" podcast that he has to undergo another surgery due to the injuries he sustained in a 2019 fall, as well as a 2003 ATV accident. Ozzy is also slated to get an epidural injection to relieve the pain he is currently experiencing.
Ozzy shared he still experiences pain despite have a previous spinal surgery to correct the injuries from his 2003 quad bike accident, saying during the podcast, "My lower back is… I'm going for an epidural soon because what's happening, what they've discovered is the neck has been fixed, but below the neck there's two vertebrae where the bike hit me and disintegrated, there's nothing left of 'em. All I know is right now, I'm in a lot of pain, I'm in a lot of discomfort."
Daughter Kelly Osbourne asked her father, "have we had a second opinion?", and Ozzy responded, "I said to the doctor yesterday, I said you know what I've heard, which I have, people have discs replaced that are worked on and they become the strongest things in the bone. In my back, the two discs, and the muscles on my shoulders have separated from my skeleton, and that's why I lean forward as it's like gravity is bringing my head forward." Wife Sharon added that doctors informed them that they don't know if the surgery will be successful or not
Osbourne recently canceled his appearance at the upcoming Power Trip Festival, which would have seen him playing on an iconic bill alongside AC/DC, Iron Maiden, Guns N' Roses, Metallica, and Tool. Ozzy has been replaced by Judas Priest at the three-day event, set for October 6th-8th in Indio, California.
See Ozzy and his family discuss his health and other topics in the new episode of The Osbournes Podcast – here.
Editorial credit: Zamrznuti tonovi / Shutterstock.com