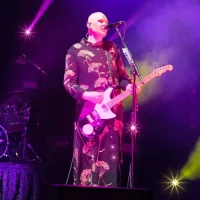 Smashing Pumpkins celebrated the 30th anniversary of their landmark sophomore album Siamese Dream on July 27, and to celebrate its anniversary, the band is teaming with Tower Records to recreate the 1993 album release concert at Billy Corgan and his partner Chloé Mendel's Madame Zuzu's tea shop in Highland Park, Il.
Madame Zuzu's will transform into a Tower Records pop-up shop beginning Thursday, Sept. 14 through Sept. 17. On the 17th, the Pumpkins will perform two acoustic sets at 6 p.m. and 9 p.m., comprised of the same songs the band at the 1993 Siamese Dream launch in Chicago. Limited-edition merchandise will also be available.
Tower Records president Danny Zeijdel said in a statement: "The Smashing Pumpkins played an unforgettable in store performance at Tower Records [in] Chicago. We're excited to celebrate Siamese Dream once again, 30 years after hosting the original album release party. In the future, we intend to provide the same platform for young, emerging artists. We will continue with this at Tower in Brooklyn and new online experiences forthcoming."
Tickets for both shows are available: here.
Information on the Veeps livestream can be found: here.
Editorial credit: L Paul Mann / Shutterstock.com