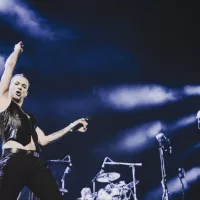 Depeche Mode has announced the vinyl reissue box set of 'Delta Machine | The 12″ Singles', set for release on October 6.  'Delta Machine | The 12″ Singles' consists of six 12-inch vinyl discs featuring various recordings and remixes of three singles off the band's album Delta Machine (2013): "Heaven," "Soothe My Soul" and "Should Be Higher."
A press release says: "Each box set in the series contains the singles from an individual Depeche Mode album pressed on audiophile-quality 12″ vinyl. The artwork for the exterior of each of the box sets draws on iconography inspired by the original releases, while the vinyl sleeves themselves feature the original single artwork."  To preorder, head here.
Depeche Mode released their latest album, Memento Mori, in March; the first since the death of band member Andy Fletcher in 2022. They will ansi return to the U.S. for a tour in continued support of Memento Mori on September 29 in Austin, TX.
Editorial credit: Taya Ovod / Shutterstock.com